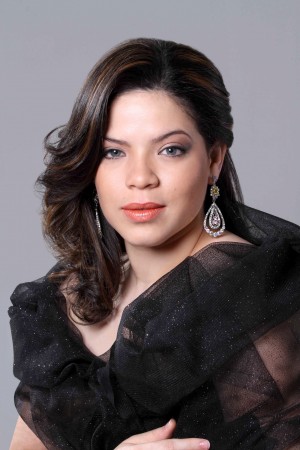 Born in San Juan, Puerto Rico. María Laetitia started her vocal formation at the tender age of 12. Later she obtained her Bachelor's in Arts degree at the University of Puerto Rico.
In 2010 she graduated from the Conservatory of Music of Puerto Rico obtaining her Artist Diploma degree in voice. After this she began her Master's Degree in Voice Performance at the prestigious school in New York City, Manhattan School of Music, under tha tutelage of the great baritone Mark Oswald, obtaining her degree in May 2012.
María Laetitia's operatic soloist work includes Despina (2011), composer W.A Mozart, Manhattan School of Music production, Lia (2011) from L'enfant prodigue, composer Claude Debussy, Ken Merrill Voice Seminar Manhattan School of Music, Rosa Gonzalez (2010) from Summer and Smoke, composer Lee Hoiby Manhattan School of Music production, Laetitia (2013) from The Old Maid and the Thief" with Florida Opera Theater, Annina (2014) from La Traviata with Orlando Philharmonic Opera Series, Barbarina cover (2015) from Le nozze di Figaro with Sarasota Apprentice Artist Program and Mimi cover (2016) from the opera La Bohème with Saint Petersburg Opera Company.
In Puerto Rico her operatic repertoire includes Zerlina (2011) (debut role) with Teatro de la Opera, singing beside Puerto Rican tenor and Operalia winner Joel Prieto. Also she has sung Pamina (2010) from Die Zauberflöte with the Conservatory of Music of Puerto Rico, conducted by legendary Maestro Roselín Pabón. She also performed Kate Pinkerton and cover Cio Cio San (2015) for Opera of Puerto Rico in the production of Madama Butterfly sharing the stage with renowed soprano Ana María Martínez and tenor Rafy Dávila.
In adition to many roles performed for opera and zarzuela scenes, María Laetitia also have an extensive solo concert performances with the Symphonic Orchestra of Puerto Rico, the Philharmonic Orchestra Arturo Somohano of Puerto Rico and soloist concert with the Tenor Antonio Barasorda for Pro-Arte Musical (Puerto Rico). She was part of the very traditional musical special from Banco Popular of Puerto Rico, having the opportunity to share this musical experience with acclaim Puerto Rican tenor Rafy Dávila, Lourdes Robles and Glenn Monroig. She recently added to her zarzuela repertoire by performing Asunción (2015) from La del Manojo de Rosas.
She also had the privilege to receive vocal training from different international venues: Israel, Italia, France and Germany. She had the amazing opportunity to work with, Joan Dornemann, Paul Nadler, Michel Sénéchal, Glenn Morton, Ubaldo Fabbri, Dona Vaungh, Chuck Hudson, Martha Collins, Nic Muni, Stephanie Sundine, Gilberto Valenzuela, Karl Hesser, Victor Derenzi, José de Eusebio, Israel Gursky, Steve Osgood, Mark Sforzini, Stella Zambalis, Richard Owens, Barbara Hunt, among others. She has participated in masterclasses with Martina Arroyo, John Fisher, Diana Soviero, Joan Dorneman.
María Laetitia won first place in the Metropolitan National Council Auditions in Florida Disctrict, in the year 2013 and she won again the following year 2014.