Resume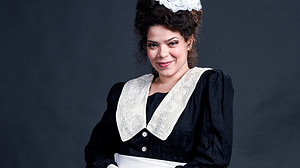 OPERA ROLES (*Full orchestra) (^ Cover)
Lia* L'enfant prodigue Community Faith Productions 2020
Susanna* Le nozze di Figaro Opera Orlando 2019
Carlotta Gasparone Middlebury College German for Singers 2019
Estrella El Barberillo de Lavapiés Ponce Lírico 2019
Salud* La vida breve Festival Casals/Orquesta Sinfónica de Puerto Rico 2019
First Lady* The Magic Flute Opera Naples 2017
Beatriz* La hija de Rapaccini Opera Naples 2017
Paige Stop Bully Opera Naples 2017
Adina^ Elisir d'Amore Orlando Philharmonic Orchestra, 2017
Gianetta* Elisir d' Amore Orlando Philharmonic Orchestra, 2017
The Spy* Candide Orlando Philharmonic 2016
Mimi*^ La Bohème Saint Petersburg Opera, 2016
Kate Pinkerton* Madama Butterfly Opera de Puerto Rico, 2015
Cio Cio San^ Madama Butterfly Opera de Puerto Rico, 2015
Ascención La del Manojo de Rosas Zarzuelada 2015-Ropajes, 2015
Barbarina^ Le nozze di Figaro Sarasota Opera, 2015
Annina* La Traviata Orlando Philharmonic Orchestra Opera Series, 2014.
Laetitia The Old Maid and the Thief Florida Opera Theatre, 2013
Despina* Così fan tutte Manhattan School of Music, 2011.
Lia L'enfant prodigue Manhattan School of Music, 2011.
Zerlina* Don Giovanni Teatro de la Opera Puerto Rico, 2011
Rosa Gonzalez* Summer and Smoke Manhattan School of Music,2010
Pamina* Die Zauberflöte Conservatory of Music, Puerto Rico, 2010
CONCERT SOLOIST

Messiah-Handel Puerto Rico Symphonic Orchestra 2018 *
Concert with California State University California State University, San Bernardino. 2018, 2020
Opening Season Concert with Orlando Philharmonic Orlando Philharmonic Orchestra 2018*
Caribe Clásico Lyric Opera Chicago/Puerto Rican Arts Alliance 2018*
Concert of the season 2016-2017 Orlando Philharmonic Orchestra, 2017*
Recital of Spanish & Latin American music Middlebury College/Spanish School VT, USA 2014-2018
Diversity of concerts- Opera, Zarzuela, Latin American and Broadway repertoire. Puerto Rico Philharmonic Orchestra 2012-2016 *
Zarzuela entre Amigos Fundación Puertorriqueña de Zarzuela 2015*
Casa Defilló Inauguration Concert, PR Pablo Casals Music in collaboration with Pianist Ivonne Figueroa, Coach Marta Casals 2015
Concert Series with Symphonic Orchestra (APOS) Symphonic Orchestra of Puerto Rico 2013-2018*
Zarzuela entre Amigos Fundación Puertorriqueña de Zarzuela, 2015*
Celebrating Pablo Casals Manhattan School of Music, 2011
Noche Española recital Pro-Arte Musical of Puerto Rico, 2010
135th Anniversary of Masons in P.R. Symphonic Orchestra of Puerto Rico, 2010 *
AWARDS
Southeast Region finalist and two-time winner of the Florida District of the Metropolitan Opera National Council Auditions, 2013 and 2014
Fellowship for the Peace Scholarship (Full), Kathryn Wasserman David- Middlebury College, Vermont
EDUCATION
M. Music, Voice Performance Manhattan School of Music, 2012
Diploma, Voice Performance Conservatory of Music, Puerto Rico, 2010
B.A. Music, Arts in Music University of Puerto Rico, 2009
TRAINING PROGRAMS
Middlebury College German for Singers, 2019
Opera Naples Resident Artist Program, 2017
Saint Petersburg Emerging Artist Program 2016
Sarasota Opera Apprentice Program 2015
Music Theater Bavaria Opera Studio, Germany, 2014
Art du Chant Francais, France 2012
La Lingua della Lirica, Italy, 2011
IVAI, Puerto Rico and Israel 2009 and 2010.
VOICE
Madja Moreno, Mark Oswald, Mignon Dunn.
COACHES AND DIRECTORS
Dona Vaughn, Michele Sènèchal, Warren Jones, JoAnn Kulesza, Ken Merrill, Ubaldo Fabbri, Glenn Morton, Nilda Betancourt, Marta Collins, Stephanie Sundine, Gilberto Valenzuela, Nic Munic, Karl Hesser, Anthony Salatino, Mary Birnbaum, Alison Moritz, Bob Neu, Bettina Matthias, Stefan Rütter, Stephan Boving
CONDUCTORS
Steve Osgood, Christopher Wilkins, José de Eusebio, Israel Gursky, Roselin Pabón, Victor Derenzi, Mark Sforzini, Ramón Tebar, Eric Jacobsen, Rafael Enrique Irizarry, Masimiano Valdés, Nicolas Giusti
LANGUAGES/OTHER SKILLS
Spanish (native), Italian, German (beginner), English, French
Flamenco, Singer Song Writer, Crossover and Pop Music Singer, Kindermusic Teacher, great Internet and Computer Skills.