Opera Orlando's 'Marriage of Figaro' sparkles with fun | Review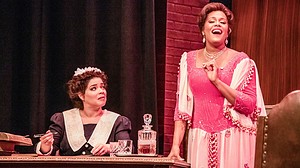 So dashing Count Almaviva from "The Barber of Seville" is all grown up, married to his love Rosina — and now a lecherous dirtbag. Yeah, Mozart's "The Marriage of Figaro" doesn't present Rosina, now the Countess, with much of a happily-ever-after.
But there is happy news for Opera Orlando. Its production of "The Marriage of Figaro," onstage at the Dr. Phillips Center for the Performing Arts, is a winner. Well sung and delightfully staged with comic flair by Robert Neu, this "Figaro" fizzes with fun.
Conductor Nicolas Giusti gets a great, rich sound out of the Orlando Philharmonic Orchestra musicians — and just enough volume for the intimate Pugh Theater. (A few musical jokes also add to the laughter.)
As the overture plays, the audience learns where the primary characters' romantic interests lie — and almost without fail, it's not in the right place. Figaro is marrying Susanna, but the Count has his eye on her. The Countess yearns to be close to her husband, but a page boy is after her.
Much silliness, scheming and switching of clothing takes place afterward, and Neu directs all this with aplomb. He also nicely captures the Countess's sadness, poignant among the frivolity and conveyed with regal sorrow by the excellent Brittany Renee Robinson.
Neu may go a bit too far with a violent slap against our good woman, a jarring scene in an otherwise lighthearted romp. But Robinson has a lovely reaction.
Figaro, our title character, is still a bit of a scamp. We know this from the start because in the opening moments he gets busy taking his bride-to-be's measurements. Gabriel Preisser, who is also Opera Orlando's artistic and executive director, has a natural charm for such roles and the more flustered he gets, the funnier he becomes. And he succeeds marvelously in making Figaro's tirade about the inconstancy of women comic and not crass.
But even if Figaro features in the title, his Susanna blazes just as brightly. Soprano Maria Laetitia rules the stage — sometimes literally moving other characters where she wants them. Laetitia always sparkles — dating back to her memorable performance as a saucy maid in Florida Opera Theatre's 2013 production of "The Old Man and the Thief." But here she's positively effervescent. She seems more commanding than ever, and finds a delicate vocal quality for Susanna on moments such as "Who could be as happy as I" that is just heavenly.
Everyone is well-cast for the roles, beyond their singing prowess. Torlef Borsting doesn't downplay the Count's hardness of heart. Emily Heumann, paying the male page, is a credible lovesick fool. Sarah Purser is so funny as a bitter "old woman," she makes you forget she's far too young to be playing such a role.
Grant Preisser's scenic design and Jon Whiteley's lighting are basic but they get the job done. The real fireworks, though, come from this first-rate cast.
'The Marriage of Figaro'
Length: 3 hours, including intermission
Where: Dr. Phillips Center, 445 S. Magnolia Ave., Orlando
When: Through Nov. 5
Info: drphillipscenter.org or operaorlando.org
mpalm@orlandosentinel.com
Matthew J. Palm

Orlando Sentinel