When Youthful Desire Grows Into Regret By ANTHONY TOMMASINI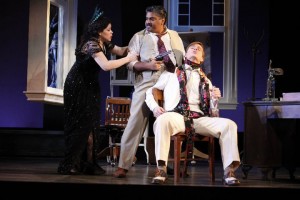 When Lee Hoiby's opera "Summer and Smoke," adapted from the Tennessee Williams play, had its premiere in 1971, it was criticized by some for its conservative music, awash in the harmonic language of Menotti (Mr. Hoiby's mentor), Barber and Mahler, and its unabashedly lyrical vocal writing. But the work, with an effective and delicately poetic libretto by the playwright Lanford Wilson, also won deserved praise for doing what an opera is supposed to do: telling the story with sure dramatic pacing and understated expressivity, in music admirable for its directness and melodic grace.
Enlarge This Image
Richard Termine for The New York Times
"Summer and Smoke": Anna Viemeister and Nickoli Strommer performed in this work at the Manhattan School of Music Opera Theater on Wednesday.
Connect With Us on Twitter
Follow @nytimesarts for arts and entertainment news.
Arts Twitter List: Critics, Reporters and Editors
A sortable calendar of noteworthy cultural events in the New York region, selected by Times critics.
Go to Event Listings »
These qualities shone through on Wednesday night when the Manhattan School of Music Opera Theater presented the first of three performances, with Mr. Hoiby, 84, in attendance. The conductor Steven Osgood drew supple, beautifully restrained playing from the able musicians.
Set in 1911 in Glorious Hill, a small Mississippi town, the story unfolds during several momentous months in the lives of two young adults who grew up as neighbors: John Buchanan Jr., a dashing doctor, and Alma Winemiller, the sweet but inhibited daughter of a pious minister. The handsome production, directed by Dona D. Vaughn, using windows and sets that descend into place, imaginatively evoked the neighboring houses: the staid sitting room in the rectory where the Winemillers live and the doctor's office where young John Buchanan practices with his father.
The opera has long been embraced as ideal for student singers, and this excellent cast fit comfortably into its roles. Anna Viemeister, a soprano, sang with warmth and intensity, capturing the uneasy mix of yearning and repression in Alma. Though part of Alma has always loved John, she is intimidated by his breezy confidence, physicality and ease with women.
Nickoli Strommer, a baritone, brought a mellow voice and crisp diction to John, the pride of Glorious Hill. John has nursed similar feelings for Alma, whose name in Spanish means "soul." But he goes too far one night when he takes Alma to the local casino, drinks too much and tries to rustle her to an upstairs room. Nothing would have happened, he explains months later in the crucial scene of the opera, because "I'm more afraid of your soul than you are of my body."
In a way, the two young people cross emotional paths. Just as Alma, despairing of her loneliness, finds the courage to open herself to John, he worries that he has been spiraling into reckless behavior with women and drink, and decides to marry the young, nubile Nellie (Audean Farmer, a perky soprano), fresh from a finishing school for ladies.
In a devastating final scene, Alma, sitting by a fountain in the park where she and John used to play, goes off dancing at the casino with a lonely traveling salesman, a short but crucial role sung by Brian Wahlstrom.
Alma's parents were winningly portrayed by the baritone Robert E. Mellon as the Rev. Winemiller, and the soprano Claire Coolen as his wife, a hostile, childish and unstable woman whom the townspeople describe as "eccentric." María Leticia Hernández as the sensual young Rosa, whom young John almost marries, and Chris Lucier as Roger, Alma's decent childhood friend, were other standouts.
"Summer and Smoke" will be repeated on Friday evening and Sunday afternoon at the Manhattan School of Music Opera Theater, Broadway and 122nd Street, Morningside Heights; (212) 749-2802, msmnyc.edu.
By ANTHONY TOMMASINI

New York Times