Mozart: Così fan tutte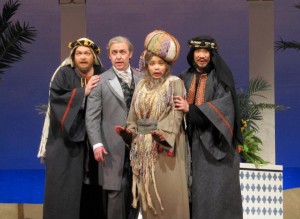 I have never been a great fan of Così fan tutte, while always regretting that I was too young to attend the Alfred Lunt production at the Metropolitan in the 1950s (in English). I used to find this opera lacking in memorable numbers, compared to Le nozze di Figaro, Don Giovanni, and Die Zauberflöte. Of course, Così does have dozens of alluring melodies, but I was not able to locate them. Finally, with a student performance at the Manhattan School of Music, all that has changed: I am now, at last, converted to Così!
I should state that operas I have not admired in the past—for whatever reasons—I have come to enjoy in my dotage. (I have yet to find Verdi's Falstaff as exciting as everyone considers it, and I have seen many productions. But I'm sure this will enter my cherished repertoire any day now.)
Così fan tutte, ossia la Scuola degli amanti was composed by Mozart in 1789 and performed in 1790. Very little is known about its creation. In the 19th century it was rarely performed, as the plot was considered somewhat immoral or frivolous to say the least. It was only in the second half of the 20th century that the opera started to be considered as a worthy example of Mozart and da Ponte's genius, and it is now a repertory staple.
The students at the Manhattan School of Music study with exquisite vocal professionals, like Catherine Malfitano, and their orchestra is generally nonpareil. The production of Così fan tutte was staged by Dona D. Vaughan, the artistic director of the opera programme at Manhattan. She knows how to draw the line at outright silliness, while giving a, clean, clear, and finely-judged interpretation of this (and many other) operas. In the past, I particularly admired her student rendition of Britten's The Beggar's Opera.
Set designer Raul Abrego and costume designer Daniel James Cole, together with Vaughn, chose to set the opera in North Africa around the time of World War One. During the first scene, taking place in a Turkish bathhouse, Don Alfonso was soaking in a hot tub. Set changes were rapid (thanks to the skillful cast) and the vistas of the seashore, various salons, and the garden were cleverly done with minimal technical and visual variations. Two palm trees, strategically placed, conferred to the stage a North African atmosphere.
Every detail was tasteful, and the creative team's concept worked quite well. Indeed, the production was a model of elegance and feeling. The performers contributed greatly to the success of this production; in particular, the ladies succumbing to their flirtations and the doubts of the gentlemen toward their new partners were masterfullys emphasized.
The two disguised Albanian gentlemen, Ferrando and Guglielmo, looked like Arab sheikhs. They were sung by members of the second cast, Karl Scully (one of The Irish Tenors) and Yunpeng Wang. Wang's performance was memorable, as he sang with a sonorous baritone sound. White accents in the hair did not necessarily make the young Jason Cox a seasoned Don Alfonso, but he sang with verve.
The three ladies were quite proficient, and good actresses as well: Rebecca Krynski as Fiordiligi, Kate McNamara as Dorabella, and María Leticia Hernández as Despina. Krynski had a warm, stylish voice that could soar with a creaminess - an unexpected feature at such a young age. McNamara acted humorously; Ms Hernández, too, was extremely funny especially when playing Despina disguised as the doctor and the notary.
The chorus sang beautifully. Israel Gursky conducted with sweeping gestures. He managed to get a fine sound from his pit, and a good sense of cohesion with the singers.
I truly enjoy student performances, when realized by such excellent musicians, and this was a perfect example of their charm. These types of events are particularly impressive also considering that all these singers are still students, and have not yet acquired the acting and vocal finesse that derive from extended experience. It is always a pleasure to see young talents early in their training. In this particular performance, I have beaming from the first to the last note, and I will always cherish the production that finally made me adore Così fan tutte!
Richard Traubner

MusicalCriticism.com