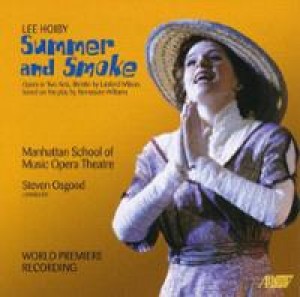 LEE HOIBY: Summer and Smoke, opera in two acts - Manhattan School of Music Opera Theatre and Orchestra/vocal soloists/Steven Osgood, conductor - Albany Records
An American masterpiece by a composer deserving to be heard more often!
Published on August 10, 2011
LEE HOIBY: Summer and Smoke, opera in two acts - Manhattan School of Music Opera Theatre and Orchestra/vocal soloists/Steven Osgood, conductor - Albany Records TROY 1272/73, (2 CDs) 122:30 ****:
Lee Hoiby, who just passed away earlier this year, is a true American original whose music lives in the same vein as Carlisle Floyd, Domenick Argento and – certainly – that of his teacher, Gian Carlo Menotti. After studying with Menotti at the Curtis Institute, Hoiby spent many years with the New York City Opera, mostly in production, frequently helping to mount productions of his mentor, Menotti, before working almost exclusively as a composer. He was originally a piano and composition student at the University of Wisconsin, Madison, where he was exposed to – but did not gravitate toward – many of the great post-World War II European émigré formalists, like Rudolph Kolisch and Egon Petri. Hoiby developed his own clearly and unashamedly melodic lush tonal style; most clearly heard and to be enjoyed in this 1971 operatic setting of Tennessee Williams' play, Summer and Smoke.
Williams had, for many years, refused to allow his plays to be set to opera (including "A Streetcar Named Desire" that Andre Previn later developed into a marvelous opera with permission of the Williams estate.) However, Tennessee Williams had seen one of Hoiby's early works, "Natalia Petrovna", and gave the composer permission to use any play he wanted! This recording of "Summer and Smoke" is from the very recent Manhattan School production that Hoiby helped oversee and the quality and dedication is evident. Williams' play was developed into a very succinct and audience-friendly libretto by playwright Lanford Wilson and Hoiby's simple lovely score evokes the atmosphere of an early twentieth century southern America quite well. (Most of Williams' plays deal with the simplicity and, occasionally, the hypocrisy of the same time and era) In this case, the story is a love story. Alma, sung wonderfully by Anna Viermeister, first meets John Buchanan, equally performed by Nickoli Strommer, when they are both children. As the story develops, what could have been a lifelong developing relationship between the two is interrupted by intervening parties, cultural barriers and tragedy. Along the way we see that Alma's father is a very proper, though somewhat invasive, Reverend whose wife, Alma's mother, is herself attracted to the adult John, now a medical student. John's father, in the meantime, is not entirely approving of the relationship his son has developed with Rosa Gonzales (another great performance here by Maria Leticia Hernandez). Rosa's father intrudes at a party and – in a drunken rage – shoots John's father, Mr. Buchanan, whom Gonzales sees as aristocratic and condescending. In typical Tennessee Williams fashion, both Alma and John endure loss of love, judgmental attitudes from their families, outside parties who try to help (only to make the situation worse) and eventually find each other. (The simplicity of true love and the hypocrisy of social structures is a familiar theme in Williams.)
All the performances here are very good indeed. In addition to those mentioned, Robert Mellon and Claire Coolen as Alma's very odd and very intrusive parents deserve special praise. The real star, here; the reason to get this disc is to hear and enjoy this wonderful score by Lee Hoiby, a composer who does not get enough attention. This production is certainly a great place to start. Hoiby's music evokes tenderness, drama, the unexpected, some humor at all the right moments. It is very accessible to any audience and contains ample lovely melodies. It does remind me of other composers whose work is better known (Floyd in particular) but Lee Hoiby was, by all accounts, a gifted composer and a gentle unassuming man. The MSM orchestra and all the singers - principal and ensemble - perform very well under the exceptional direction of Steven Osgood. The fact that the composer worked closely with the director in this world premiere recording is clear.
The very helpful booklet notes by Jane Jaffe mention that Hoiby had just completed a three act setting of "Romeo and Juliet" before his passing in March, 2011. I would be very interested to see and hear that piece and hope that someone will produce it and record it. Albany's engineering, sound quality and packaging are all first rate. Thanks to them and all those involved for making this attractive, meaningful, truly American work available. I think any fan of Tennessee Williams, those who may know of Lee Hoiby or anyone who appreciates melodic, tonal and dramatic music in a familiar genre will enjoy this greatly!
--- Daniel Coombs
Daniel Coombs

Audiophile Audition (web magazine for music).