Two Proud Concert Showcase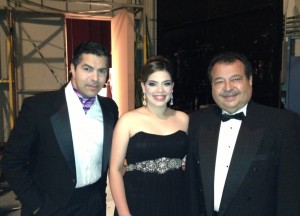 Part of the concert article by The Star:
The Concert proceeded from Cuba to the deep South with one of the most beloved lullabies of all times, "Summertime." The work, from Gershwin's jazz-inspired opera "Porgy and Bess," was delivered by a new young face on the Puerto Rico lyric theater scene, 26-year-old Maríá Leticia Hernández. With her carefully studied Afro-American southern drawl, already indicated by the composer in the lyric, she combines the genres of opera, yet nuanced instrument- putting baby to sleep, but certainly not her audience.
Hernández was in her element with her three songs in this segment, communicating the pathos and the naked feline/feminine truth of the lyrics of "Memory" from "Cats", and the untethered joy of "I Could Have Danced all Night" (Note the past tense, program writers and careful singers). The broad British "ah" in "dance(d)" was deliciously delivered, as was the rest of the lyric, and the whirling around of a beautiful young lady with an imaginary partner was inspired. Beautiful job.
"I Dreamed a Dream" from "Les Miz" was another right-on hit from a young performer who already makes all the right moves to relate to her audienc, including the clutching of the heart/breast. She was stunning in first a black gown, and then a red one, with a train to match her verve and even folksy style of Pabón (conductor), which his audience seems to favor. Her admirers bombarded her with bouquets... A great show.
Peggy Ann Bliss

The Star